Camp KEEP
KEEP Ocean in Montana de Oro State Park
KEEP Ocean is a beautiful and invigorating location for an outdoor science school, providing the highest quality program in environmental education.
3350 Pecho Valley Rd, Los Osos, CA 93402
KEEP Ocean Campus
Campus Infomation
Geodesic Dome serves as cafeteria and gathering space.
Discovery Zone nature center complete with 2 terrariums, animal specimens, microscopes, and hands-on sensory activities.
Large open play area with a sand volleyball court, basketball court, Ping-Pong tables, soccer area, tetherball, & Frisbee golf.
Outdoor nature areas include greenhouse, native plant garden, and bird viewing area.
Beautiful amphitheater. Before bed students gather around the fire for stories, songs and laughter.
Cabins & Facilities
10 student trailers with 7 bunk beds each.
Cabins have optional privacy pod for changing clothes
Modern bathrooms and showers with locking doors and privacy curtains.
Handicap-accessible trailers, bathrooms, & showers.
Separate trailers for classroom teachers within sight of the student trailers.
Meal Information
3 meals a day that are well-balanced, kid-friendly, and tasty!
Optional morning & afternoon snacks provided.
Hot beverage & snack bar for adults.
Recycling & food scrap composting practiced.
Optional menus available for vegetarians and those with food allergies.
Daily Hikes
Morro Bay
At Morro Bay, students will spend the entire day learning about the natural history, geology and economic importance of estuaries. Waterfowl, shorebirds, and raptors share this habitat with sea lions, sea otters and fish. Students will conduct field studies of the estuary by examining plankton, observing underwater habitats and exploring the salt marsh and mudflats. The wide variety of vertebrates and invertebrates observed in these habitats help give meaning to the concepts of food webs and interdependence.
Creek Hike
Under the shade of the willow trees the babble of the creek serves as a backdrop for lessons about the riparian ecosystem and the history of the Native Americans (Chumash) who depended on this vital source of water
Mountain Hike
As students climb the coastal mountains through the chaparral ecosystem they will study the geology that helped form our coastline. Climbing to the top of these mountains and seeing the spectacular views of the Pacific Ocean stretching below gives the students a sense of accomplishment not felt in traditional educational settings.
Sand Dunes Hike
The shifting sands of the sand dune community provide a dynamic landscape overlooking the Pacific Ocean. Here, students can study the unique flora and fauna that is adapted to this 'semi-desert' area.
Beach Hike
This walk also affords the students a chance to explore some of the beaches, tidepools and rocky shorelines of the state park, and the unique plants & animals that make the rocky shoreline their home.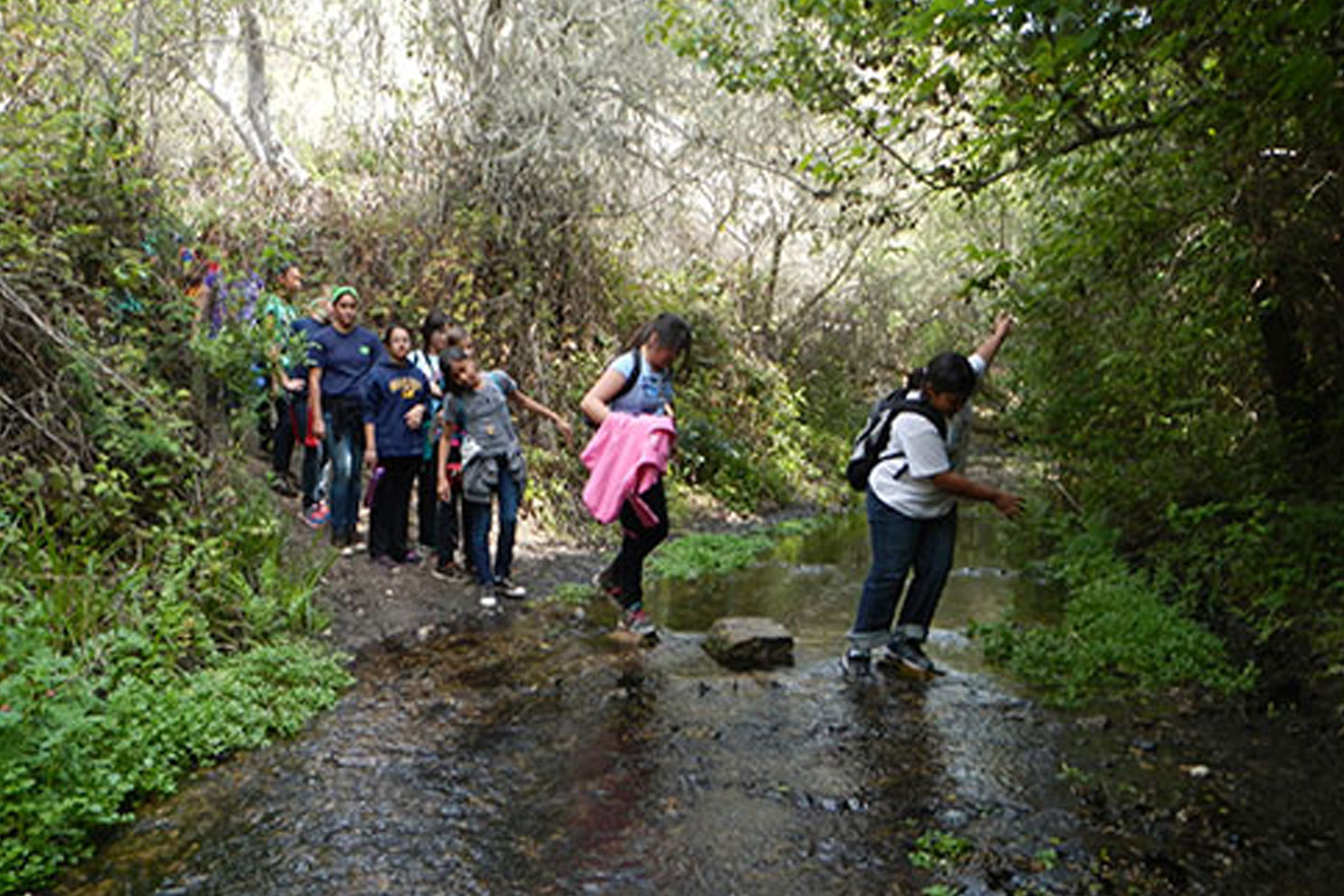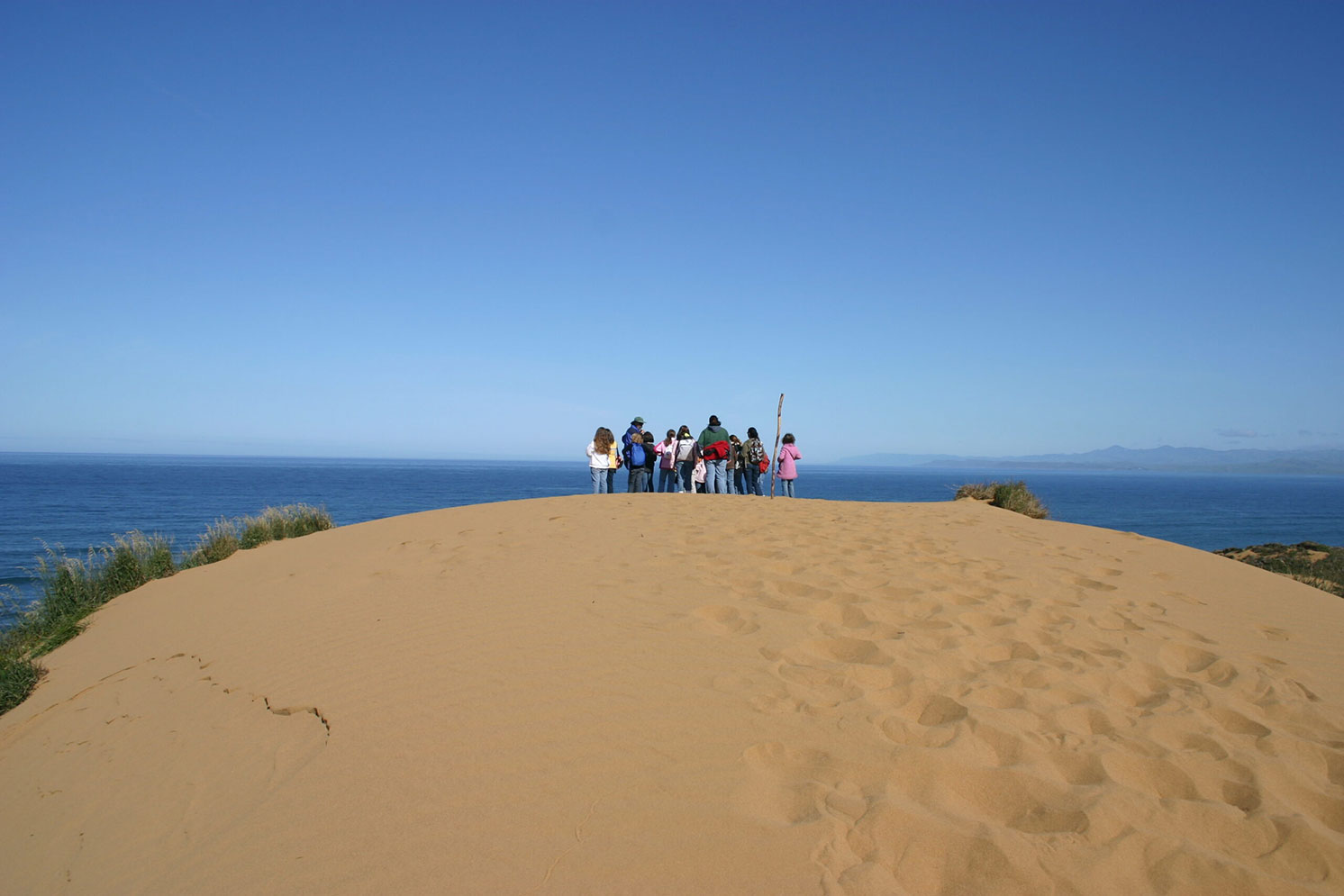 Daily Schedule
7:00 a.m. – 8:30 a.m.
Wake-up, breakfast, awards, and getting ready for the day. Students fill out their daily activity journal.
8:30 a.m. – 11:30 a.m.
Nature walk to beaches, tidepools, forests, creeks, sand dunes, or Morro Bay.
11:30 a.m. – 12:30 p.m.
Picnic Lunch.
12:30 p.m. – 3:30 p.m.
Nature walk to beaches, tidepools, forests, creeks, sand dunes, or Morro Bay.
3:30 a.m. – 4:30 p.m.
During this time, teachers provide activities for students such as art projects, writing letters home, or filling out their KEEP journals.
4:30 a.m. – 5:30 p.m.
Recreation and shower time. Activities include nature center, soccer, volleyball, basketball, ping-pong, tether ball, snake holding & touch tank exploration.
5:30 p.m. – 7:00 p.m.
Dinnertime! Students eat a nutritious dinner with a delicious dessert. After dinner students get ready for evening activities.
7:00 p.m. – 9:00 p.m.
Evening program. Students work together playing various science games. Games are followed by a campfire, songs, and stories.
Quick Links - Ocean
A few quick guides before coming to KEEP
Proper footwear is a must. Dress in layers. Bring a warm hat, gloves and jacket. Students should label all clothing and equipment. Bring a good attitude about getting dirty
Top